.aligncenter{
display: block;
margin-left: auto;
margin-right: auto;
}
A 2012 report by C3Health found that, in most countries, people are not doing the minimal amount of activity recommended for good health. They recommend walking as a great form of physical activity because, "[I]t is low-impact, appropriate for all age-groups, and is free."
In fact, they found that briskly walking for just 15 minutes each day can add up to "three years of life expectancy." For every 15 minutes after that, they found that death rates were reduced by 4%.
Further, they found that walking can prevent diseases like type 2 diabetes, cardiovascular disease (heart disease and stroke), and musculoskeletal conditions like back pain.
Benefits of Walking
Like all forms of exercise, walking is also good for your mental health. A number of studies report that it can relieve depression and anxiety and improve cognitive performance (which they define as thinking, understanding, and remembering). Walking can also help to improve the quality of your sleep.
Finally, there is a psychological benefit to being outside and enjoying greenery and water. A study in the U.K. found that 94% of participants felt that "green exercise[s]" like gardening, cycling, and walking improved their mental health.
Along with enjoying the great outdoors yourself, if you replace driving with walking, you're helping the environment as well.
With global climate change remaining a major problem for humanity, switching your wheels for some tennis shoes can lower your carbon footprint.
Walking to Lose Weight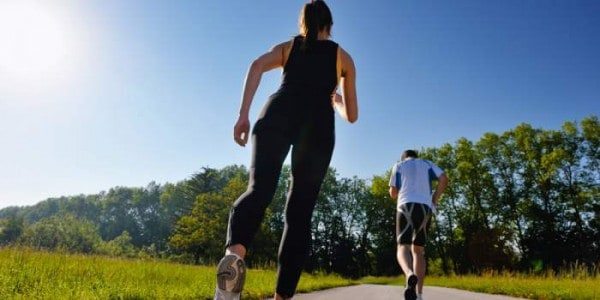 Ideal Pace
To see the maximum benefits, you want to try to walk at a moderate pace, which equates to at least 100 steps per minute or 3,000 steps per half hour.
Another way to gauge moderate-level activity is this: you should be able to talk but not sing as you are performing the activity. For more vigorous exercise, use the talk test.
You should not be able to say more than a few words without pausing to take a breath.
Need help picking up the pace? Research shows that playing songs with at least 180 beats per minute (think "Hey Ya" by OutKast) will get you stepping lively.
The key to losing weight is to focus on your speed rather than your distance. As Courtney Schurman, author of The Outdoor Athlete said to an editor at WebMD, "If you can walk 5 miles but it takes you 5 hours to do it, it's not a fit level of work." You want to be at 70% to 75% of your maximum heart rate.
Below is a chart provided by the American Heart Association (and slightly edited by me to reflect the 70-75% target heart rate for walking) that shows what your maximum heart rate should be.
Walking Workouts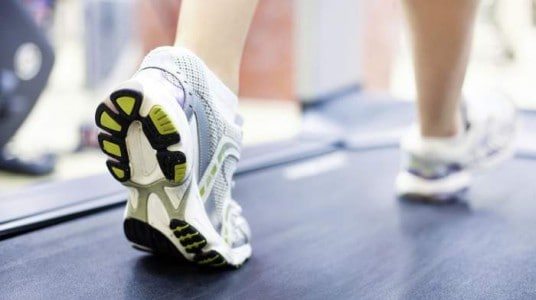 The rule-of-thumb is that you want to get at least 30 minutes of physical activity 5 days each week. C3Health found that the 30 minutes does not have to be all at once. If you're looking for motivation or a way to make walking more enjoyable, try these tips:
Wear a pedometer all day. This will help you measure your progress. Try to get in 10,000 steps each day, which equals about 5 miles.
Keep a walking journal. This will help you view your progress over time.
Find a partner in crime. A workout buddy will keep you accountable, and let's face it, you'll have way more fun.
Try a race or charity walk. You'll be helping a good cause, and it will provide motivation.
Ready to increase difficulty?
Pick up the pace.
Pump your arms.
Change your altitude. Walking up and down hills (or raising the incline on the treadmill) will make the workout harder.
Walk on different surfaces, such as rocky trails, as it will demand more of your muscles.
Add resistance or a weighted backpack.
Walking Distance Calculator
There are a number of free apps (including MapMyWalk) that use a phone's GPS to track how far you've walked. That's the only way to known the exact distance you've traveled.
Using the stepsyou've taken to determine how far you've gone is not always reliable, as everyone has a different stride length. As mentioned above, on average, 10,000 steps equal 5 miles.
Knowing this, you can calculate how many miles you've walked (2,500 steps equals .25 miles; 15,000 steps equals 1.5 miles; etc.).
Calories Burned Walking
The number of calories you expend in any activity is difficult to determine, as it depends on a number of factors, including your age, weight, gender, muscle mass, and the difficulty of your workout.
The C3Health report found that someone weighing 200 pounds (91 kg) could burn around 114 calories per mile even if he or she is walking at a slow pace.
To come up with that number, they provide this simple calculation:
Casual Walking Speed (2 m.p.h.): Your weight x .49
Brisk Walking Speed (3.5 m.p.h.): Your weight x .57
Thus, a 120-pound (54 kg) woman walking at a brisk pace can expect to burn about 68 calories per hour.
The Only Equipment You Need
Walking is a great sport, as you don't need to spend a ton of money on equipment. All you need is a great pair of shoes. Here are some offerings on Amazon.
Best Walking Shoes For Women
ASICS Women's Gel Quick WK 2 Walking Shoe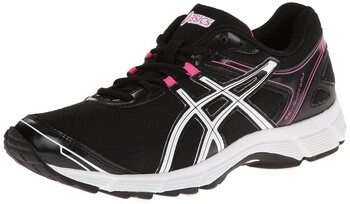 This good-looking shoe ranges from $41.94 to $71.94. The cost depends on the size and color that you need. The heel measures 1.25", and reviewers have rated it 4.4 out of 5 stars.
Pros
Comfortable right away—no breaking in period
Fits well
Good for people who have issues with their feet such as plantar fasciitis or bunions
Cons
Run a little small. You'll want to order a half-size up.
Overview
As long as you order a half-size up, you should be happy with these shoes. I think they're the best of the bunch, and I elaborate on that in the reviews below.
ASICS Women's Gel Frequency 2 Walking Shoe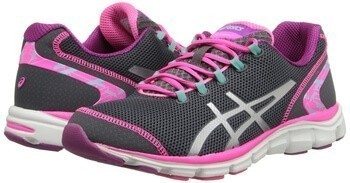 These differ from the ASICS WK2 shoe in that they have a 2.25" heel instead of 1.25". I prefer buying shoes with a lower heel for a number of reasons.
Mainly, lower heels force you to step toe first, which is better for your knees and your back.
I am a runner, and I noticed a huge difference when I switched to zero drop shoes (these have no heel support at all). I used to have issues with my knees, and they no longer bother me at all. Thus, I would probably go with the WK2.
However, if you do prefer a thicker heel, this shoe is rated 4.3 out of 5 stars.
Pros
Good arch support
Lightweight
Comfortable and great for people with bunions or other foot issues
Fit as promised
Cons
Not much support in the front part of the foot
Overview
If you are someone with foot issues, you may want to choose these over the WK2s, as these offer lots of support in the heels. However, if you have issue-free feet, I would really recommend a shoe with a lower heal.
Skechers Performance Footwear Women's Go Walk Slip-On
The price range on these shoes is huge--$28.99 to $100.30, based on size and color. Reviewers rate it 4.6 out of 5 stars on Amazon.
Pros
Good arch support
Lightweight
Easy to pull on and off
Comfortable
Cons
The style may appeal to some, but I think these are some hideous shoes. They look more like water shoes than walking shoes.
Wear out quickly
Overview
If you can get a pair at the less expensive cost (and you can deal with the way they look), this is a good walking shoe. You don't want to spend too much on them, though, as they wear out quickly.
Skechers Women's Loving Life Memory Foam Fashion Sneaker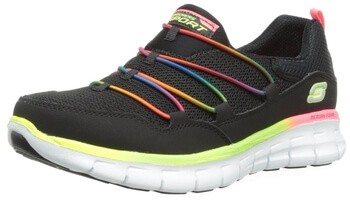 While these are better looking than the slip-on Skechers, I still think they're pretty ugly.
This is just my personal preference, though. Take a look and see if you love them. They are listed at $25.18 to $70.50 and are rated 4.5 out of 5 stars.
Pros
Comfortable
Good arch support
Have memory foam, so they will be a perfect fit for your unique foot
Cons
Not enough arch support for serious walking
Overview
If you can deal with the way they look, they are good for light walking. If you see yourself going serious miles, though, I would pick up a pair of ASICS.
New Balance Women's WW1765 Fitness Walking Shoe
These retail for $45.27 to $119.25. For this price, I think you would be better off with the ASICS, but these shoes are also appealing for a number of reasons. They are rated 4.3 out of 5 stars.
Pros
Available in wide sizes
Comfortable, particularly for those with heel pain
Cons
Wear out quickly
The non-wide sizes are a bit narrow
Overview
Again, for the price, I would go with the ASICS. If you like the style of these more (or if you have a wide foot), keep in mind that these have a 1.25" heel.
This is great for people who want to train themselves to walk with the weight on their toes instead of their heels (which is great for those with back or knee pain).
If you have foot issues, though, you may want to pick up a pair of the ASICS Frequency 2.
Best Walking Shoes For Men
ASICS Men's GEL-Venture® 4
Rated 4.4 out of 5 stars, these shoes range from $27.99 to $67.94. They have a 1.25" heel and are made for multi-surface terrain. They also include a GEL cushioning system in the heel.
Pros
Can help you make the transition from walking to running
Good for trail walking
Cons
Runs small and feels tight
Not long-lasting
Poorly ventilated
Overview
If you have a wide foot, you'll want to avoid these shoes. As they have a small, narrow fit, you just won't be comfortable. Additionally, these shoes aren't going to be great in the summer, as they are poorly ventilated.
If you do a lot of walking on trails, though, or if you need a pair of walking shoes for a colder region, these may be good for you.
New Balance Men's MW411 Health Walking Shoe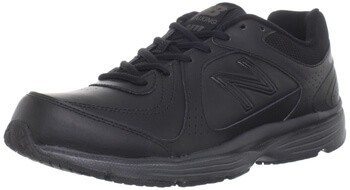 I know form is more important than fashion when looking for a pair of walking shoes, but this is another truly hideous shoe. That being said, they are priced between $47.97 and $61.95, and they are rated 4.3 out of 5 stars.
Pros
Comfortable
Provide lots of support
Cons
Narrow fit, so they may not be the best shoe if you have wide feet
The sole tears away from the shoe body (the ASICS have this same issue)
Not great for hot climates, as they are poorly ventilated
Overview
If you have wide feet or live in a hot climate, these shoes are not for you. Also, these shoes are not durable enough for the $50 price tag. The sole should never wear away from the shoe body.
PUMA Men's Tazon 5 Cross-Training Shoe
This is a really good-looking shoe, particularly the red, white, and black pair, and they are rated 4.3 out of 5 stars. Priced between $24.66 to $99.95, the Puma's are breathable and have a cushioned midsole.
Pros
Comfortable
Fits well (as long as you order a size larger than you normally do)
Did I mention they're fashionable
Cons
Not waterproof, so you can only use them on sunny days, and you need to avoid puddles
Even with the breathable design, they are still hot
Overview
You'll want to order a size larger, as they run small. This is a good looking shoe that is great for walking, but as with the New Balance and ASICS, don't expect your foot to stay cool and dry.
Skechers Men's Go Walk 3 Mesh Slip-on Shoe
What is it with Skechers and ugly shoes? Seriously. Much like the women's version, these look more like aquatic shoes than walking shoes. Other people must like the look, though, as they are ranked 4.5 out of 5 stars on Amazon. They cost between $40 to $89.99 and have a 1.5" heel.
Pros
Cons
Tight through the toes
Not good for rough terrain
Wear out quickly
Overview
If you are looking for a comfortable shoe to walk on smooth surfaces (and you can deal with the looks), this would be a great shoe for you. You will want to order a half-size larger than you normally do, though, as they run small.
Rockport Men's Eureka Walking Shoe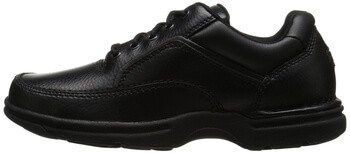 These shoes are interesting in that they are professional looking enough to wear to work. This is probably due to the fact that they are faux leather with a manmade sole. They cost between $39.87 to $99.95 and are rated 4.3 out of 5 stars.
Pros
Comfortable
Shock absorbing
Cons
Not as durable as previous models
Narrow width
Rigid sole
Overview
While these shoes are attractive enough to sneak into the office, you can find a better walking shoe. Even though they're not the prettiest shoe out there, I'd go with the Skechers.
Final Thoughts
Since walking is such a good form of exercise, you want to try to work it into your day as much as possible. Stop and ask yourself if you can walk to a location instead of driving there, as it is a great way to get in some physical activity.
When I worked in downtown Nashville, I lived in Germantown, and my apartment was two miles from my job. I walked to and from work nearly every day, and it was wonderful. I walk fast, so I could do the walk in under 30 minutes.
I started the day feeling energized, and I noticed that my stress level was much lower than my coworkers who had to brave rush hour traffic in Nashville (which is brutal). Then, on my way home, I found that a brisk walk really cheered me up if I had had a stressful day.
The best part? My workout was done for the day!
While you may not be ready to walk a total of four miles each day, start small and work yourself up to longer distances. Your body will thank you.