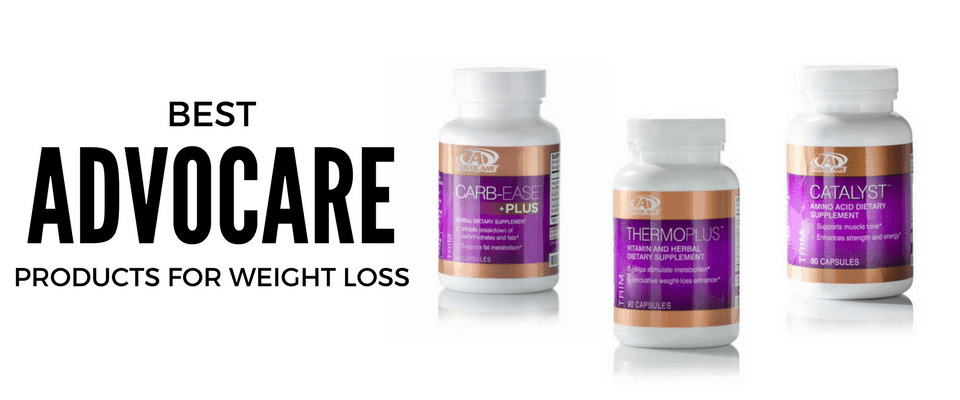 When trying to lose weight or get fit, it's common to turn to supplements or a meal replacement shake or bars to support your efforts.
They can help to do a range of things, from boosting metabolism to appetite control so that the weight loss journey is more manageable. Remember though, this is not a meal replacement solution.
AdvoCare is just one brand that offers a number of supplements suitable for supporting weight loss. With their range of products, it can be confusing as to which one would work best for your goals.
Their supplements have different benefits, as well as drawbacks, and it's important to consider which product will have the effects you are looking for. AdvoCare products focus on weight management and loss, energy, sports nutrition and dietary supplementation [incidentally, they also have a advocare weight loss 24 day challenge focused on building metabolism].
This advocare review will take a look at three of their products, Catalyst, Thermoplus and Carb-Ease, though there is advocare spark energy drink and advocare leptilean too, which is not covered here. They all aim to perform different functions to help people in their journey to lose weight, get fit and maintain general health and wellness.
Take a look at the pros and cons and cons of each, the evidence behind them, and what people who have used them to have to say.
More...
Products Reviewed In This Article
AdvoCare Catalyst
AdvoCare Catalyst is a dietary supplement containing amino acid. It aims to improve your strength and energy and support your muscle tone. It can be an excellent addition to a weight-loss program.
This makes it ideal for anyone using exercise to get fit and lose weight. Combined with exercise and a balanced diet, it helps to fuel your body so you can build muscle and keep going for longer.
The main benefits of the product include assistance to repair and protect muscle and maintain muscle when you're losing weight. Of the three AdvoCare cleanse products in this review, Catalyst is the best for those who want to manage their weight and build or maintain muscle at the same time.
Active Ingredients in AdvoCare Catalyst
Catalyst contains branched-chain amino acids, as well as L-glutamine and L-arginine. The amino acids are intended to support your muscle repair and growth.
Some scientific studies have supported the theory that taking extra amino acids can help people to get stronger in a shorter period.
For example, a 2012 study by SL Casperson et al. showed that the amino acid leucine helped to improve muscle protein synthesis in older adults when they took it with meals three times a day. AdvoCare Catalyst includes L-Leucine, L-Isoleucine and other active ingredients to support muscle strength and stamina.
Pros of AdvoCare Catalyst
Some of the benefits of AdvoCare Catalyst include:
Helps to build muscle
Supports weight loss without losing muscle tone
Increases energy and stamina
Cons of AdvoCare Catalyst
Some of the drawbacks of AdvoCare Catalyst include:
Must be taken directly before a workout, meal or sleep
Requires 3 capsules per dose
Contains gelatin (not suitable for vegetarians)
Reviews from Real Users
Hearing from real people who have tried AdvoCare's weight loss product is important if you want to be fully informed before making up your mind.
Fortunately, there are plenty of real world reviews of their products that you can use to make a decision before buying.
Reviews on Amazon show a largely positive response to AdvoCare Catalyst, with 83% of more than 200 reviews giving a rating of at least three stars.
Reviewers like Robin Croy and Shelly Araujo note that they feel like they have more energy when they take Catalyst before going to the gym or working out.J.
Bisek, who uses AdvoCare Catalyst to support their CrossFit workouts, says they can notice the difference if they don't take the product before working out and can see improved muscle definition and lean muscle mass. It is as good as taking a pre-workout supplement.
Other reviewers have noticed visible differences too, with Louise Batiste saying that she can see a measurable difference in body size from using the product.
Alisha Hill gave the product a five-star reviewing, saying that it helped her lose a dress size in just a month.
AdvoCare Thermoplus
AdvoCare Thermoplus offers another option to those looking for a dietary supplement to help them on their weight loss journey.
Whereas the Catalyst product focuses on achieving lean body mass, Thermoplus is herbal cleanse that aims to boost the metabolism, suppress appetite and help the body convert fat into energy.
Managing a well-balanced diet when you're trying to lose weight can be difficult and having a way to appetite control and kick your metabolism into gear can help you out.
Thermoplus helps to support your healthy and well-balanced diet and exercise by giving you the assistance you need to reach your goals faster. A little help controlling your appetite can go a long way.
Active Ingredients in AdvoCare Thermoplus
Many people like to see that their dietary and weight loss supplements contain natural ingredients. AdvoCare ingredients are often derived from natural sources, including several of those found in AdvoCare Thermoplus.
It contains extracts of sage, oolong tea, and guarana, all of which have been used to promote weight loss by boosting the metabolism and suppressing the appetite.
The supplement also contains thiamine and niacin. Thiamine, or vitamins B1, is used for a number of digestive problems, and can also boost the immune system.
It is also used to help improve mood and positivity and increase energy. A study from 2015 by Kerns et al. discussed that many obese people have a thiamine deficiency.
Pros of AdvoCare Thermoplus
Some of the benefits of AdvoCare Thermoplus include:
Helps to control appetite for a healthier diet
Encourages the conversion of fat into energy
Contains natural ingredients such as sage and oolong tea extracts
Promotes a healthier metabolism
Only one capsule a day required
Can be taken with other Metabolic Nutritional Supplement from AdvoCare
Cons of AdvoCare Thermoplus
AdvoCare reviews and ratings give a generally positive image of the product.
There are nearly 100 reviews on Amazon, and nearly three-quarters of them have a rating of three stars or more.
One Amazon customer said that they had lost 25lb in three months while using AdvoCare Thermoplus together with exercise and a healthy diet.
Another, called AKB, said that the product helped to reduce their cravings for sweet things. However, it has to be noted that some reviewers said they felt the product didn't do anything to help them.
AdvoCare Carb-Ease
AdvoCare Carb-Ease is another from the selection of AdvoCare products that you should try for weight loss.
If you enjoy eating foods that are rich in carbohydrates, or say fiber drink, you might find that it's difficult to lose weight. Carb-Ease is a product that is meant to help with this problem by inhibiting the breakdown of carbs and fats so that the body is less likely to absorb them; a fat burner in a sense.
If you have overindulged in carbohydrates, Carb-Ease is meant to minimize the effects to help you manage your weight.
Active Ingredients in AdvoCare Carb-Ease
Like some other Advocare supplements, Carb-Ease contains natural ingredients chosen to support the body and its metabolism.
For example, it has white kidney bean extract and green coffee extract, which help to prevent the breakdown of fats and some carbohydrates.
The supplement also contains brown seaweed extract as one of its main ingredients. By inhibiting the absorption of carbohydrates, Carb-Ease can help you to maintain your weight and your blood glucose levels, keeping them in the normal range.
The US National Library of Medicine says that white kidney bean extract can help to block the absorption of carbs.
Pros of AdvoCare Carb-Ease
The pros of taking AdvoCare Carb-Ease include:
Inhibits the breakdown of carbs and fats
Reduces the effects of excessive consumption of carbs
Helps to maintain normal blood glucose levels
Assists with weight loss and maintaining weight
Cons of AdvoCare Carb-Ease
Some of the possible drawbacks of taking AdvoCare Carb-Ease include:
Brown seaweed has a minor effect
Some concerns about value for money
Must be taken with "your largest starch-containing meal", according to AdvoCare
Can't be taken between meals or on an empty stomach
Reviews from Real Users
The majority of reviews for AdvoCare Carb-Ease on Amazon are positive, with mostly reviews of three, four or five stars.
Some people, like Christine M. Morvay, have even been using the product for an extended period of time. Lora L. Hooks said that the product helped to maintain blood sugar levels when she took the capsules with a meal high in carbs.
A couple of reviewers even liked the product so much that they became a distributor for the brand.
Conclusion
AdvoCare's products and supplements for weight loss come in a range of options suitable for different purposes. If you want to build, maintain and protect muscle while you lose weight, Catalyst is designed to help you do that.
You also have the option of Thermoplus, which aims to boost metabolism and suppress the appetite to make it easier to manage your diet and exercise.
Carb-Ease is specifically for people who eat a lot of carbs and might struggle to cut back on them. Whichever product you choose, it's important to use it alongside a well-balanced diet and exercise program.